We all want to be able to enjoy a radiant body without worrying about the presence of body hair. To be able to wear shorts, a tank top or a bikini on our long-awaited summer holidays free of any complexes or discomfort.
Find out how our Eneka PRO equipment can help your company
Eneka Pro diode laser hair removal offers you an effective, painless and safe solution to achieve this goal.
Its advanced technology removes facial and body hair
in all phototypes, hair types (except white hair) and all year round, including those months when our skin may be more tanned.
ENEKA PRO diode laser hair removal
Its high power and a sapphire-tipped epidermal cooling system make the ENEKA PRO treatment a safe and comfortable experience that protects the health of our skin.
The handpiece applied to the skin will emit a high-powered light beam that is absorbed by the melanin present at the base of the hair (hair follicle). This precise mode of action concentrates the thermal energy on the hair avoiding any damage to the skin. Due to the thermal shock to the follicle, the follicle is destroyed and new hair is prevented from forming.
ENEKA PRO incorporates the latest technical advances in diode laser technology to make treatments more comfortable and safer.
WORKING MODES
In addition to the classic single-shot working mode (Dynamic Hair Removal-DHR), ENEKA PRO includes a second working mode of cumulative energy delivery (Fast Dynamic Hair Removal-FDHR) which allows hair removal by gradual heating of the follicle.
WAVE LENGTHS
808 nm
For its efficacy in hair removal in phototypes I to VI.
755 nm
This Alexandrite diode allows the removal of the finest and lightest hairs, as well as residual hairs.
COOLING SYSTEM
In addition, ENEKA PRO incorporates a "Contact Cooling Sapphire Tip System" which further ensures customer safety and minimises discomfort.
Do you have any questions?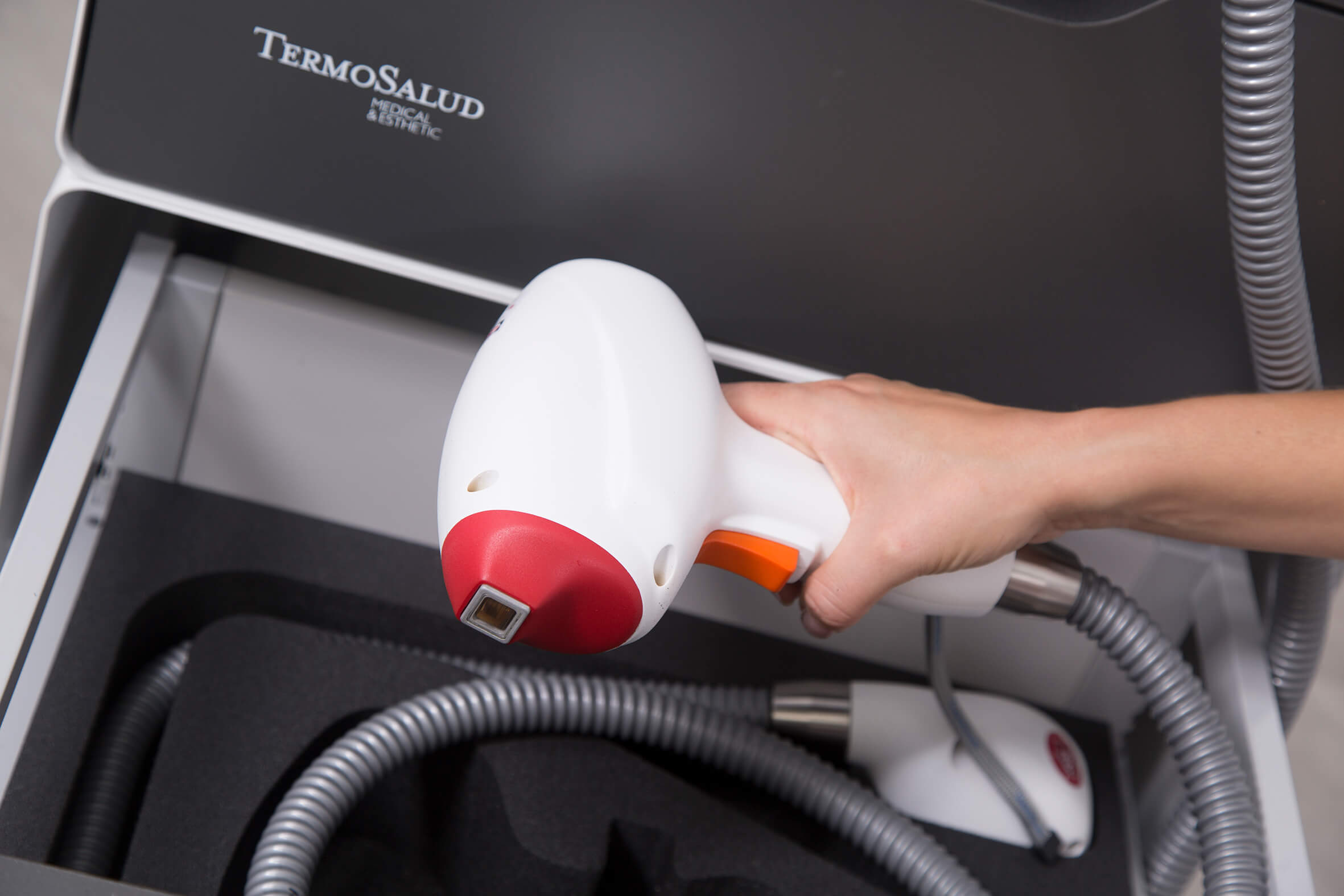 Fast and lasting clinical results

All phototypes, all year round Including tanned skin in the summer months




For all areas of the body and proven effective from the very first session
Indicative treatment times
Women's full legs: 11 minutes
Men's chest and abdomen: 5 minutes
The handpiece that will be placed on your skin will emit a high-powered light that acts in a targeted manner on melanin, the pigment found in the hair. Due to this action, the hair follicle and the cells responsible for producing new hair are degraded, preventing hair regrowth.
How do I know if I am eligible for treatment?
ENEKA Pro has been designed for all phototypes. However, there are specific medical conditions (pregnancy, skin alterations,…) that may pose a risk. That is why, before treatment, a specialist will assess your condition and options for use.
Are there any pre-treatment measures I should take?
It is recommended to come to the session shaved, to avoid previous exposure to the sun and to avoid using hair removal methods that alter the hair root (e.g. waxing) as this is the therapeutic target of the laser treatment.
A specialist will examine the area to be treated and ensure that the treatment is safe. A test shot will be performed to check that the skin responds appropriately. Finally, a gel will be applied to ensure coupling and the treatment will begin according to your phototype and selected parameters.
The treatment is painless although a small percentage of clients report some discomfort related to the heat generated by the handpiece on the skin or the cooling system. To ensure a comfortable treatment, the practitioner will ask you about your thermal sensation and adjust the treatment to your needs.
How many sessions are needed?
It will depend on your skin type and hair quality. It also depends on the area to be treated and its hormonal component. However, several sessions are always required as you have to act on the hair in the anagen phase and not all the hair is in this phase when the treatment is applied.
Hair removal with ENEKA Pro permanently removes the active follicles in successive sessions.
Can I have the treatment while I am tanned?
Yes, ENEKA Pro can be used on all skin types including tanned skin.
More information
send us a message